Yolo Bypass Wildlife Area and Bat Flyout Fieldtrip
August 25, 2019 @ 10:00 am

-

8:30 pm

PDT
A day with the birds, an evening with the bats!
Join us as we explore the wetlands and rice fields of the Yolo Bypass. We will spend the day tootling around the refuge, looking for otters and birds. Enjoy a potluck lunch, drawing demonstrations and plenty of time to sketch, journal, and explore.
What to bring
Plenty of water.

Pack potluck treats to share for Lunch and Dinner. Bring your own bowl and spoon.

Sun hat and Sunscreen
Your journaling supplies
A sense of wonder and humor
Bat Flyout
Our program usually ends at 4:00 PM but not today. We will extend our afternoon, sketch more, and have a potluck dinner together. There is a large colony of Mexican Free-tailed Bats that live under the causeway. They fly out from their roost en masse around 7:30. As the flyout nears, we will drive to the gates of the Yolo Bypass Wildlife Area and go up on the levee for the best bat view at sunset. If you will just be joining us for this portion of the day, drive west on the Causeway, take 32 A towards E. Chiles Road. Park outside the gates of the Wildlife Area.
Here is a great article from Bay Nature magazine about the bats in this area.
If rain is forecasted for the day of the field trip, the trip may be canceled or relocated to an indoor venue. Check the program description on Sunday morning before leaving for updates and changes. The program is open to all ages and ability levels. No registration is necessary. $20 suggested donation.
DIRECTIONS TO THE YOLO BYPASS WILDLIFE AREA
The Yolo Bypass Wildlife Area is approximately two miles east of the Headquarters office. We will meet on the Refuge at parking area A (near the entrance) See Map. Note that the loaction on the google map is not correct, we are down the road from the location shown. It is best to follow the written directions below.
From Davis take I-80 East and exit at Mace Blvd. Turn left at the end of the off-ramp (Chiles Road). Go straight through the next light and travel approximately 4-miles to the end of the road. Drive up on to the levee, turn left at the top, and enter the Yolo Bypass Wildlife Area.
From Sacramento take I-80 West. At the west end of the Yolo Causeway bridge take the first exit (County Road 32A, East Chiles Road). Turn right at the end of the off-ramp and go under the freeway. Turn left onto the levee and enter the Wildlife Area on the left.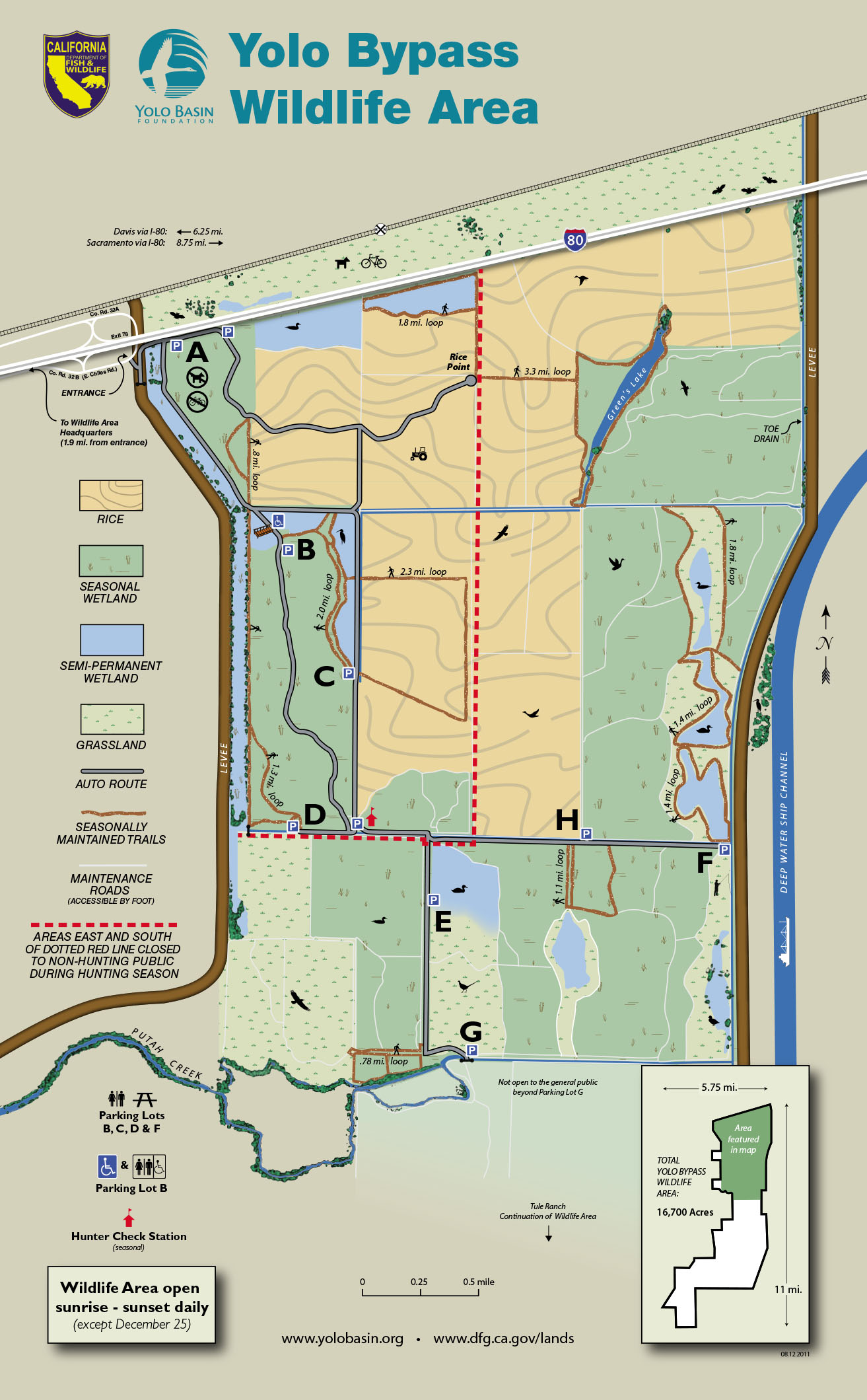 Related Events